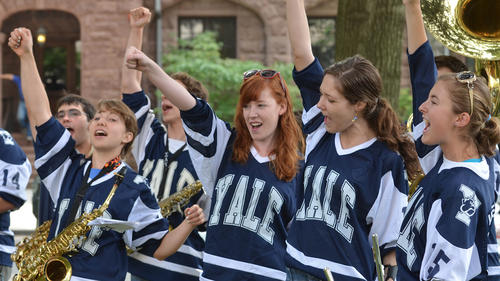 NEW HAVEN, Conn. –The impressive level of play by Yale University's intramural athletics have officially been surpassed… by the demonstration of sportsmanship shown by
its colleges.
The 2019-20 season proved to be one the most competitive in school history with two colleges neck-and-neck in the Tyng Cup standings for the IM championship. In 
unprecedented times, Grace Hopper and Saybrook Colleges, with just points between them in the standings, made the unprecedented decision to share the Tyng Cup
Championship.
Yale Intramurals began in the early 20th century. These early contests were designed for non-varsity athletes to compete in athletic competitions. The teams were mainly year-
classes. However, with the inauguration of the residential college system in 1933, the Intramural program changed significantly. The teams changed from graduation classes to 
residential colleges to benefit from the closeness of the communities and build bonds within each dorm complex.
Also introduced in 1933 was the Tyng Cup, a gift from alumni George Adee, Sheldon Rose, and Malcolm Aldrich. The Tyng has been awarded annually since that year to the 
residential college that has won the greatest number of Tyng points at the end of the academic year.
"The decision to share the trophy was made to acknowledge the strong bonds of the Yale College community and to recognize the incredible efforts and accomplishments of
Hopper and Saybrook," stated IM secretaries.
Championship shirts for the co-champions will be ready when on-campus classes resume.