The Grace Hopper Student Kitchen is available for use by any Hopper student who would like to cook a meal or bake something interesting to share with friends. It's located in the basement, most directly accessed via entryway H. The kitchen is stocked with basic essentials and common items, including baking materials (flour, sugar, baking soda/powder, food colorings), basic spices, cooking oils (vegetable, olive, etc.) and other miscellaneous goods.
Do you want to reserve the Hopper Kitchen? Here's what to do!
1. Check for availability on our Calendly! Reserve whatever time slot you would like- if you would like more than one hour, reserve multiple slots in a row! 
2. Fill out this Kitchen Use Application form! 
3. Download your completed Kitchen Use Application form and email it to Hopper Kitchen Manager, along with the time slot you reserved on our Calendly!
4. Await a response! When we approve your application, we will send you a response and CC the Hopper College Aides. Then, you will be able to go to the Hopper College Office (entryway G). There, you will drop off your $20 deposit and borrow a key! You will be required to return this key after your reservation.
Upon the end of your reservation, you will be required to fill out the Hopper Student Kitchen Cleanup Checklist and return your key! 
Student Kitchen Managers, 2023-2024
Emily Brown '24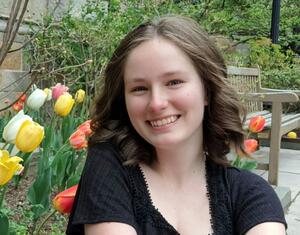 Emily is a senior from Spokane Valley, Washington, majoring in political science. Some of her other interests include psychology, anthropology, and basically any other social science! In her free time, she likes to run, bike, watch TV, explore campus, and attempt (often poorly) to try new hobbies. She is also a College Aide, so if you see her in the office or during events, come say hi! Fun fact: Emily bakes when she gets stressed, so keep an eye out around midterms and finals seasons!
Kat Moon '24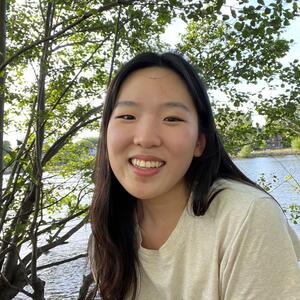 Kat Moon (she/her) is a senior from Seoul, South Korea, majoring in Molecular Biophysics & Biochemistry (MB&B) and History of Science, Medicine, & Public Health (HSHM). At Yale, Kat likes to connect with New Haven community through Haven Free Clinic and Alzheimer's Buddies. She is also a proud soprano of Yale Gospel Choir, and one of the busy sloths in the Good Life Center. Looking forward to fostering fun, clean, and accessible kitchen in Hopper!