Sandra Okonofua, Head Graduate Affiliate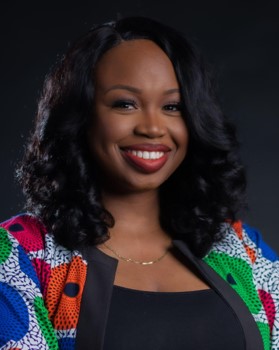 Sandra Okonofua is a Ph.D. student in Sociology at Yale University as well as Head Grad Affiliate and Mellon Coordinator at Grace Hopper College. Her research interests sit at the intersection of social stratification, social policy, law, race, class, gender and education. Sandra intends to explore how local government laws and policies contribute to disparities in education access and outcomes. Additionally, Sandra is interested in examining various drivers of the underrepresentation of Black women and girls in STEM across the K-16 pipeline. 
Before coming to Yale, Sandra worked as a school counseling intern in Massachusetts, a high school science teacher in Philadelphia and as a ghostwriter for industry leaders. She received her B.A. from Dartmouth College, M.S.Ed from the University of Pennsylvania and Ed.M. from Harvard University. In her free time, she enjoys reading fiction, listening to audiobooks and going on culinary adventures. 
Graduate Affiliates, 2022-2023
Joysha Agarwal

Joysha Agarwal (she/her) is a first year MBA candidate at Yale School of Management. She is devoted to studying consumer behaviour, especially in the Fashion and Lifestyle industries, in hope to build a truly sustainable model which is both affordable and accessible. 

 

Before coming to Yale, she graduated (this year, 2022) with a Bachelors in Fashion Technology (Apparel Production) from NIFT, Delhi (India). Besides school, she has been engaged with campaigns to promote global gender equality.

 

In her free time, she enjoys walking around exploring the culture, rewatching Bollywood movies, solving sudoku puzzles, and trying her hand at cooking.

Braedyn Au

Braedyn Au is a 2nd year physics PhD student. His research focuses on neuroscience and how networks of neurons perform computations, particularly in the fly visual system. 

Braedyn got his BSc in his hometown of Calgary, Canada where he also studied physics. His fond memories include doing exchange semesters at the University of Hong Kong and Freie Universität Berlin, hiking the Rockies, and exploring various research fields.

 

In his free time, Braedyn loves running, volleyball, hiking, music festivals, and recently started growing houseplants!

Hillary Browning

Hillary Browning (she/her) is a first year student at Yale Law School. Originally from Texas, she enlisted in the Navy shortly after graduating from high school and served for six years as a journalist. She was stationed in Japan and Virginia and deployed to Afghanistan. While on active duty she completed her associate's degree at a community college and then transferred to Yale College as part of the Eli Whitney Students Program. She graduated in 2020 and then worked with a non-profit that helps veterans apply to undergraduate and graduate programs. 

 

At the law school she is a member of several affinity groups and student organizations. She's interested in tax law and litigation finance.  

 

She is married to an Eli Whitney student (James Glatt!) and has two kids. She enjoys cycling, baking and exploring the Northeast. 

Adriana Ceron

Adriana is a second-year PhD student in the Department of Sociology at Yale. Her academic interests include international migration, race and ethnicity, and social stratification. In particular, her work examines Central American migration to the U.S. and the mechanisms that shape the incorporation and exclusion of immigrant youth and adults. 

 

A first-generation college graduate, Adriana earned her BA in sociology from Pitzer College in 2018. Prior to Yale, she was as an Admission Officer at UCLA, where she worked closely with first-generation and working-class students in the Los Angeles area, the city she calls home.

 

In her free time, Adriana enjoys traveling, going to concerts and music festivals, and watching new tv shows. She looks forward to meeting you all!


 

Harry Doemberg

Harry Doernberg is a current Yale medical student and former Hoplite (HC '19!) graduating with degrees in MB&B and Music then receiving an M.M. in Cello Performance through the 5-year program. At Yale College, he was a member of Low Strung, YSO, Yale Cellos, and club wrestling. A Massachusetts native, he plans to do Internal Medicine with a focus on patients with developmental disabilities.

In his free time, Harry enjoys running, playing music, and trying to keep his plants alive.


 

Alex Fialho

Alex Fialho (he/they) is a PhD candidate in Yale University's Combined PhD program in the History of Art and African American Studies. As an art historian and curator, his research and writing focus on modern and contemporary art, Black feminist and queer theory, and AIDS cultural studies. Fialho's dissertation thinks through photography by African American artists and archives of their work as apertures onto AIDS-related art histories. 

Alex enjoys biking to the beach and on the Farmington Canal.

Alex Grizos

Alex Grizos (she/her) is a second year MBA candidate at the Yale School of Management. She is the Co-President of SOM's Women in Management club. She spent her summer in NY working in consulting. Prior to Yale, she graduated from the University of Pennsylvania in 2017 where she majored in Health & Societies. After graduation, she completed a fellowship in the Ruhr region of Germany and spent four years in consulting. 

 

Outside of school, Alex can be found going for walks around New Haven and visiting museums.

 

Laura Hallas

Laura is a second year J.D. student at Yale Law School. Originally from Texas, Laura became passionate about public health and health equity during her time at UT Austin, where she graduated with degrees in health and society and economics and worked in journalism. Before coming to Yale, Laura studied in the UK as a Marshall Scholar, earning her Masters in Public Health from the London School of Hygiene and Tropical Medicine, and her Masters in Global Governance and Diplomacy from Oxford. 

 

At the law school, Laura works at the intersection between public health, law, and policy. She is involved with the Reproductive Rights and Justice Project, the Global Health Justice Partnership, the Solomon Center for Health Law and Policy, the Yale Law Journal, and the Yale Journal for Health Law, Policy & Ethics. 

 

Outside of academic work, Laura enjoys exploring East Rock, kayaking, and generally trying to be artsy.

Daniel Henick

Daniel Henick is a current ophthalmology resident at Yale New Haven Hospital and former Hopper undergrad (HC '17!) who graduated with a Bachelors of Science in Psychology while also completing the premedical curriculum. As an undergraduate, he was a member of the Yale Symphony Orchestra, Superfly ultimate frisbee team, as well as the steel drums ensemble. Before starting medical school, he was a Medical Assistant in Massachusetts. He is from New Jersey and completed his MD at Mount Sinai in NYC.

 

In his free time, Daniel enjoys playing ultimate frisbee, cooking big dinners, and spending time with his fiance and cat named Asher.

Sergio Infante

Sergio Infante is a Ph.D. student in History and a Hopper alum (from the first class to graduate using the college's new name: HC '18). After leaving Yale, he earned an M.Phil. in Modern South Asian Studies at the University of Cambridge and worked as an editor at Foreign Affairs. His current research focuses on how development economists (and other social scientists) understood the relationship between poverty and productivity. 

 

Sergio loves cycling down the canal trail and hiking up Sleeping Giant.

Liz Jacob

Liz Jacob (she/her) is a third year student at Yale Law School. Liz is a passionate advocate for environmental justice and deeply committed to serving alongside communities of color and low-income communities to build a healthier, more just world for all. Liz received her B.A. in Environmental Science and Policy and Sustainability Marketing from the College of William and Mary, where she was a Gates Millennium Scholar. Prior to starting law school, Liz worked for several years in the environmental movement, organized for immigrant justice, and served alongside her colleagues to unionize her workplace. As a student leader at YLS, Liz has served on the boards of eight affinity groups and student organizations to advocate for environmental and immigrant justice, provide legal resources to community-based organizations, support students from underrepresented backgrounds, and facilitate student-led reading groups and learning spaces.

 

In her free time, Liz enjoys organizing in the New Haven community, trying new ice cream flavors, and running with her dog, Juno! 

Nick Kearns

 

Nick Kearns is a Ph.D. student in Sociology. His research has focused on Puerto Rican migration in New England and the movement of culture from urban to rural areas. He is also interested in peer group dynamics and how migrants have entered into local economies. Prior to Yale, Nick attended Amherst College where he earned his B.A. in English.

 

In addition to his studies, he also enjoys meditation, which he practices with the Yale Buddhist Community.

Pawel Maslag

Pawel is a first-year MPH student at the Yale School of Public Health focusing on social and behavioral sciences with a concentration on climate change and health. He is also a Policy Fellow at the Yale Center on Climate Change and Health, a member of the Yale Public Health First-Generation/Low-Income Student Group, and a member of the steering committee for the 2023 Yale Philanthropy Conference. 

 

Pawel was the first in his family to attend college and received his BA in sociology from Columbia in 2018. Most recently, Pawel was on the corporate engagement and philanthropic team at Goldman Sachs. Outside of Yale, Pawel serves as an elected councilmember on his hometown's city council in Garfield, New Jersey. 

 

Beyond that, Pawel loves cycling (slowly), visiting museums (and pretending to know about the art), and reading books (but actually more like buying books and not reading them). 

Sage Mason

Sage Mason is a second-year J.D. student at Yale Law School. A native of New York City, Sage is passionate about using law and policy to increase access to opportunity for members of historically disadvantaged groups, while making space for all perspectives. Sage comes to Yale as a transfer student, having spent his first year of law school at Washington University in St. Louis. He graduated from Emory University in 2020 where he majored in Philosophy, Politics & Law.

 

At the law school, Sage is an Articles Editor for the Yale Law & Policy Review, a member of the Community and Economic Development Clinic, a Hurst Horizon Scholar, and a Ludwig Fellow in the Tsai Leadership Program. He is thrilled to join the Yale community, excited to explore New Haven, and grateful for the opportunity to get to know everyone at Grace Hopper.

Jacob Morrow-Spitzer

Jacob Morrow-Spitzer is a PhD candidate in Yale's Department of History. An affiliate of the Yale Judaic Studies Program, he works broadly on American Jewish history, with a particular focus on Jewish engagement in issues of race, politics, and citizenship in the 19th and 20th centuries. He also works as a Writing Fellow at Yale's Graduate Writing Lab. After graduating from Tulane University in 2018 with a B.A. in History and Jewish Studies, Jacob worked at a non-profit in Jackson, Mississippi, and then as a historical consultant to a local development project in Portland, ME.

 

Outside of work, Jacob is a competitive distance runner, an ultimate frisbee player, and a lover of all things outdoors.

 


 

Carl "CJ" Rice

 

Carl "CJ" Rice is a doctoral student in the combined program in ancient history. A West Virginia native and First-Generation, Low-Income Student, CJ (as his friends call him) graduated from West Virginia University in 2013 with bachelor's degrees in history and religious studies. In 2016, CJ completed his master's degree at North Carolina State University. CJ is currently completing his dissertation in which he examines interactions between the Roman religion and ideas of citizenship in the third, fourth, and fifth centuries CE.

 

In his spare time, CJ is an amateur climber and enjoys sampling CT's wine and beer scene.

Amanda Royka

 

Amanda Royka is a PhD student in psychology and former Hopper undergrad (HC '18). After graduating with her B.S. in cognitive science, Amanda won a Marshall Scholarship, which allowed her to study at Queen Mary University of London and the University of Edinburgh. She currently studies how humans and monkeys track what other individuals are aware of. 

 

Amanda enjoys jogging up East Rock and crocheting. 

Ann Sarnak

Ann Sarnak is a third-year law student at Yale Law School. Originally from New Jersey, she graduated from Yale (and Hopper College!) in 2017 after studying history and participating in the Global Health Scholars program. She pursued a Master's in Comparative Social Policy at Oxford through Yale's Henry Fellowship and then returned to her home state of New Jersey to serve in state government. Ann focused primarily on affordable housing policy. At Yale Law School, she has been the co-president of the Law and Political Economy Society, and worked for SEIU 1199NE, SEIU International, and labor and public interest-focused firms.  

 

In her free time, Ann enjoys long-distance running, crosswords, and live music.

Robert Xiangru Tang

Robert Xiangru Tang is a Ph.D. student in Computer Science. He got a master's degree at Yale as well. His research focuses on the intersection of biology and machine learning. He is working on trustworthy machine learning methods development for computational biology and healthcare applications. Before coming to Yale, he worked in natural language processing at Microsoft Research Asia and Sinovation Ventures. 

 

He is passionate about triathlon, cycling, tennis, and ping-pong. Beyond research, he would like to help to develop a tech community that is committed to increasing the representation, retention, and advancement of marginalized genders. He also loves being involved in Hopper student life!

Katy Wilson

Katy Wilson is a Ph.D. student in the School of Environment. Working at the intersection of environment, policy, and business, her research explores mechanisms that encourage corporations to support the transition to a low-carbon economy. 

 

Katy graduated with her B.A. in geography from the University of Cambridge before being awarded a Fulbright Scholarship to study her masters in Climate Science and Policy at Columbia University. She spent a year working at a climate tech start-up in Manhattan before returning to University for her Ph.D. 

 

As a former Varsity swimmer, Katy loves all water-based sports and views daily exercise as a critical part of her well-being. She is also an avid foodie, cooking and exploring new restaurants whenever she gets a chance.  

Dmitriy Yakubov

Dmitriy Yakubov is a second-year MPP student at the Jackson School, focusing on international security and American foreign policy in Eastern Europe.

 

Dmitriy immigrated to the United States from Russia. He graduated from Carnegie Mellon University in Pittsburgh, Pennsylvania with a BArch and a BS in international relations and politics. He is a U.S. Navy Civil Engineer Corps officer and completed tours in Seabee battalions and SEAL teams, as well as at shore installations in the U.S. and Europe.

 

He rowed for the CMU Tartans and is currently a volunteer assistant coach for the Yale Men's Lightweight Crew.

Marcus Yee

Marcus Yee is a Ph.D. student in History, studying environmental histories of modern Southeast Asia. Marcus is a member of the Yale Council of Southeast Asian Studies' Graduate Student Committee. He earned a B.A. from the University of Hong Kong, double majoring in History and Earth Systems Science, with a minor in Thai. 

 

Born and raised in Singapore, he is concerned about climate action, and enjoys hiking, kayaking, and doing pottery in his free time. 

Jim Zhou

Jim Zhou is a first year Masters student at the Yale Graduate School of Arts & Sciences, studying Computer Science. He grew up in New Jersey and completed his undergraduate studies at UCLA. 

 

At Yale, Jim works as the course manager for CPSC 323, a computer systems class that is a core requirement for the Computer Science major. He is a member of the Berkeley College Orchestra and plays archery with the Yale Club Archery Team. In his free time, Jim enjoys playing clarinet, cooking, and community activism. 

 

He is excited to join the Hopper community and would be happy to discuss topics ranging from graduate life and career advice to the best spots to relax on campus.