CCEs are part of a larger group of around 60 undergraduates who work within Yale's wide variety of communities to promote a more positive sexual climate on campus. To do this, CCEs share skills through learning experiences such as the Myth of Miscommunication workshop taken by all first years and create spaces for informed, productive discussions. CCEs can also connect students to resources for dealing with sexual misconduct and would be happy to discuss any issues related to Yale's campus culture.
Your 2021-2022 Hopper CCEs
Sabrina Mellinghoff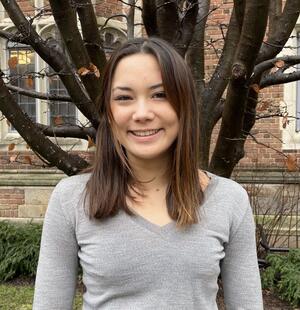 Sabrina Mellinghoff is a CCE in the class of 2024 majoring in German and History of Science and Medicine. She is a sprinter on the Women's Track and Field Team and is excited to work towards a healthier culture on campus!
 
Lucía Amaya
Lucia Amaya Martinez is a member of the class of 2025. She is originally from Bogotá, Colombia. Her major is undecided, but she is interested in Political Science and History. In addition to being a CCE, she works at the Law School Library, is a member of YIRA, the Yale Tango club and the LGBTQ co-op. Lucía loves listening to music and watching movies from all over the world.