| | |
| --- | --- |
| | |
| | |
The Grace Hopper ceramics studio is open to all Hopper students.
The studio benefits from the wisdom of Penelope Van Grinsven, College Arts Fellow, and the energy of Hopper's student managers, who provide basic instruction on the use of the wheels and studio procedures. After an introductory orientation, students will be assigned a key allowing them access to the studio.  Throughout the year, there will be opportunities to attend a hands-on class to learn basic ceramics and pottery techniques.
For more information about the pottery studio or reservations, please contact Angela McCray at angela.mccray@yale.edu in the Head of College Office.   
For information about ceramics at Hopper and the residential colleges more generally, please email the College Arts Fellow in Ceramics, Penelope Van Grinsven at penelope.vangrinsven@gmail.com. General questions about the studio itself may be asked of Angela in the Head of College Office. 
Pottery Studio Managers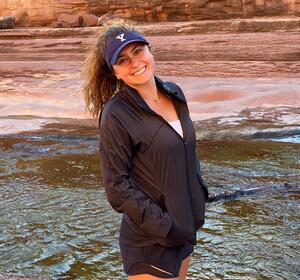 Nicole is a junior from Tucson, Arizona, and she is majoring in economics. She is on the Yale Softball team and is passionate about running, hiking, painting, and pottery. On campus, she is the Hopper pottery studio manager, Hopper art studio manager, the statistician for men's and women's soccer and basketball games; she also participates in Camp Kesem, and the Buckley Program.