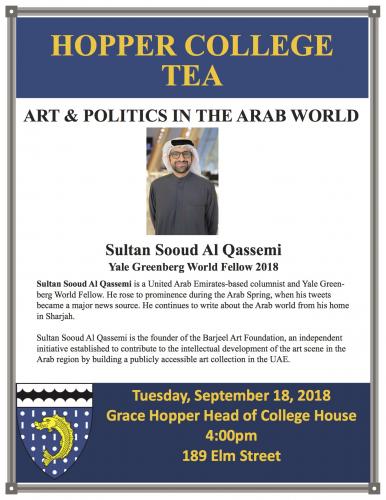 ART & POLITICS IN THE ARAB WORLD
Sultan Sooud Al Qassemi
Yale Greenberg World Fellow 2018
Sultan Sooud Al Qassemi is a United Arab Emirates-based columnist and Yale Greenberg
World Fellow. He rose to prominence during the Arab Spring, when his tweets
became a major news source. He continues to write about the Arab world from his home
in Sharjah.
Sultan Sooud Al Qassemi is the founder of the Barjeel Art Foundation, an independent
initiative established to contribute to the intellectual development of the art scene in the
Arab region by building a publicly accessible art collection in the UAE.
Tuesday, September 18, 2018
Grace Hopper Head of College House
4:00pm
189 Elm Street