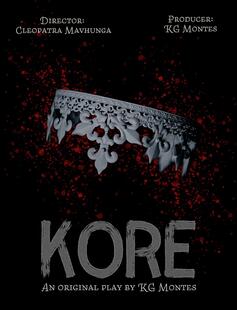 From Kate Krier, Associate Dean for the Arts; Special Adviser, Schwarzman Center; Director of Production Yale College:
Hello!
This week's Guest Curator is KG Montes, a junior in Grace Hopper College double-majoring in Molecular Biophysics and Biochemistry and Theater and Performance Studies. This spring, KG is producing Kore with director Cleopatra Mavhunga, Timothy Dwight College '23. KG is an active member of several campus groups, including Something Extra, Whim 'n Rhythm, and the Dramat, and works as a research assistant in environmental and biochemical labs. Her main interests are exploring the process of recovering from trauma through the lens of theater and performance, and during her time at Yale, KG has explored a number of production roles, including head electrician and director. Even so, KG is a playwright and performer by trade.
In addition to KG's selections, I invite you enjoy the Yale Jazz Ensemble's performance of "Stompin' at the Savoy" by Edgar Sampson, arrangement by Michael Mossman
 Nick Indorf solos on tenor sax and viewers can choose between two featured pianists: Aidan Kluger, Timothy Dwight College '24 and Eva Quittman, Morse College '23.
Enjoy!