First-Year Counselors (FroCos) are seniors who guide first-year students as they settle into their new lives as Yalies. The Hopper FroCos live with the Hopper first-year students in Bingham Hall. They host study breaks, Blue Booking sessions, and other events to bring everyone together as a community. FroCos are also available to discuss choosing and managing classes; balancing extracurricular and academic life, or anything else that might be on a first-year student's mind.
Your 2018-19 Hopper FroCos:
Marcus Downs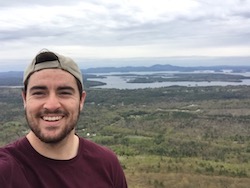 Marcus is an MCDB major from Westfield, Indiana. He is a member of the Men's Club Volleyball Team and a prior member of the Yale Track and Field Team as a discus and hammer thrower. Interests include learning languages, traveling, exercise (any and all sports included), watching movies, and singing and dancing along to whatever music is playing!
Melissa Kropf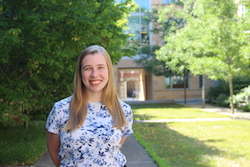 Melissa is a History major from Westphalia, Kansas. Within the history major, Melissa is focused on German history specifically and will be writing her senior thesis about adoption in London following Kindernacht. When she's not reading her history books or writing papers, Melissa can most oftentimes be found in Payne Whitney Gym, dancing as a member of the Yale Ballroom Dance Team. Melissa competes in the collegiate dancesport circuit in both Latin and Standard style ballroom and is the current Advanced Dancer Coach for her team, teaching and offering lessons to team members. Melissa also works as a Senior Interviewer in the Undergraduate Office for Admissions and is daily astounded by the incredible high schoolers that she meets and interviews. As a Froco in the upcoming year, Melissa is most excited to see the hard work of these wonderful high schoolers pay off as their dreams become reality on Yale's campus. 
Sheila Qasemi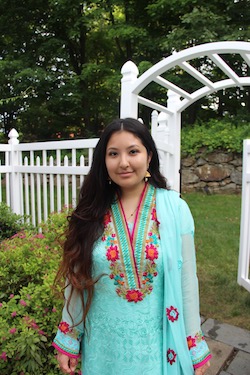 Sheila was born in Quetta, Pakistan, a rural city home to Afghani Hazara immigrants.  Denver is now what she calls home.  She is majoring in Molecular, Cellular, and Developmental Biology, conducting her senior thesis research at the Yale Medical School's neuroscience department.  She has served in Dwight Hall in several capacities: Education Network Coordinator, Public School Intern, and member of the board.  Her interest in nonprofits and education led her to work for the Teaching Peace Initiative and Firoz Academy. Outside of class, she loves binge-watching Bollywood films, Jane the Virgin, and Scandal.
Riya Satara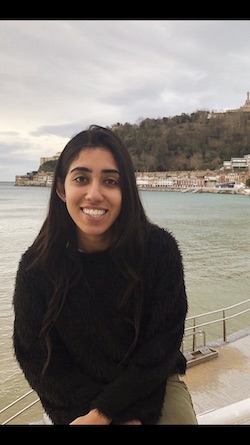 Riya is an Economics major from Englewood Cliffs, New Jersey. Her
favorite thing about Yale is hands-down Hopper College. From playing IMs
to hanging out in the Buttery, Hopper is where she spends most of my
time. Outside of Hopper, she's involved in the Sikh Student Association
and works in the Admissions Offices. During the fall of her junior year,
she studied abroad in Seville where she lived in a homestay and explored
all aspects of Spanish culture. Along with the rest of the Hopper Froco
team, she can't wait to welcome her HopFrosh to the best residential
college on campus!
Austin Strayhorn
Austin grew up in Suitland, MD– a small Prince George's County town near Washington, D.C. Growing up, he read Boy's Life, Time Magazine, and Zoobooks and says today that he's not much different! At Yale he majors in Ethics, Politics & Economics with a concentration in sustainable development. He loves the outdoors and outdoor activities, and spent last spring term studying conservation and savanna ecology in Kruger National Park, South Africa. His most meaningful experiences at Yale have come through community service–particularly mentorship. He has been deeply involved with A Leg Even, an organization that equips high-achieving, low-income first-years at Yale with the tools they need to support their academic and pre-professional aspirations, and other organizations. In his free time, you can catch him hanging out with friends with some good music and lively debates– probably about environmental justice or Kendrick Lamar's merits as the greatest American poet or how the Golden State Warriors should be prosecuted under the Sherman Antitrust Act. Austin is down to face any challengers in a game of pickup basketball in real life or in NBA 2K19.
Michael Wong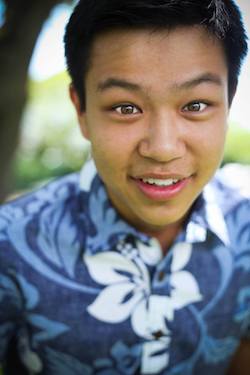 Originally from Honolulu, Hawai'i, Michael is a senior majoring in Molecular, Cellular, and Developmental Biology. Besides focusing on his studies, Michael conducts research in the Hochstrasser lab on science hill, plays on the club volleyball team, volunteers at Yale New Haven Hospital, and plays in the Berkeley College Orchestra. He can usually be found either napping in his room or playing grass volleyball with his friends on old campus. Michael is excited for his senior year and to meet all of the new first years in the fall!
Gloria Wu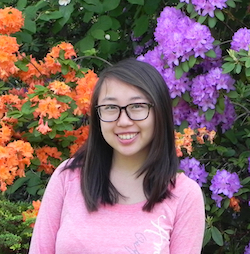 Hailing from Toronto, Canada, Gloria is a senior majoring in Statistics and Data Science and Molecular, Cellular, and Developmental Biology. Outside of class, she loves dancing her stress away with the Yale Ballroom Dance Team (where she served as co-captain), doing computational/synthetic biology research, volunteering at The Connecticut Hospice and with the Hypertension Awareness & Prevention Program at Yale (HAPPY) and working as a college aide. You can find her munching away on mozzarella sticks in the buttery, exploring Yale's nooks and crannies, or soaking up the courtyard/Old Campus sun on a nice day. Gloria loves getting to know new people and cannot wait to welcome the Class of 2022!