First-Year Counselors (FroCos) are seniors who guide first-year students as they settle into their new lives as Yalies. Typically the Hopper FroCos live with the Hopper first-year students in Bingham Hall on Old Campus; in 2020-21, both the first-year students and the FroCos will live within Hopper College itself. FroCos host study breaks, Blue Booking sessions, and other events to bring everyone together as a community. FroCos are also available to discuss choosing and managing classes; balancing extracurricular and academic life, or anything else that might be on a first-year student's mind.
Your 2020-2021 Hopper FroCos:
Abdah Adam
Abdah Adam is an international student majoring in Global Affairs and Modern Middle Eastern Studies. Despite having been born and brought up in Mumbai, a bustling metropolis, she has grown to love New Haven's calm and homely environment. For the past three years, Abdah has worked with New Haven's refugee and immigrant community, being a member of the Dwight Hall Board of Directors and having served as Co-President of Refugee and Immigrant Student Education (RISE), a Dwight Hall tutoring group. Being passionate about human and refugee rights, she has also assisted in research on citizenship and statelessness in Jordan and the Western Sahara. Abdah can usually be found with a cup of English Breakfast tea in the Hopper dining hall, or then with a cappuccino at Koffee?, her favourite New Haven coffee shop. If in neither of these locations, she can be spotted watching a new theatre production, playing intramural basketball, or debating themes of the Harry Potter novels with her friends. Abdah is extremely excited about meeting the new first-years, and learning about their various interests and experiences.
 
Sam Essig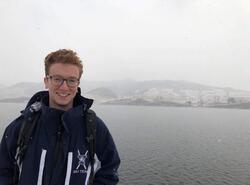 Sam Essig is an Economics & East Asian Studies double major from South Florida. At Yale, Sam is involved with the Restaurant Rescue Project, AEPi, the ski team, and several (much less fun) business groups. Sam is pursuing a career in finance and has spent recent summers working and studying in diverse locations like Beijing, Tel Aviv, and… West Palm Beach.
In his free time, you can find Sam in bed watching copious amounts of YouTube content, attempting (and failing) to bulk up at the gym, feverishly trying to teach himself guitar, or cooking up some buffalo chicken quesadillas at the Hopper buttery, semi-ironically to the tune of Pitbull.
Originally part of the Class of 2020, Sam spent the past year studying Mandarin Chinese in Beijing and Taipei. Sam is excited for the upcoming school year and can't wait to welcome the Hopper Class of 2024 to Yale!
Michael Garvey

Michael Garvey is native of Newport, Rhode Island. He completed most of the computer science major before deciding, "Hey, I like Cognitive Science better!" and is currently a research assistant in the Social Cognitive Development Lab at Yale. Michael was President of Yale Club Gymnastics, so you may see him flipping around, upside down, or on crutches if things don't go too smoothly. (If you want to hit him where it hurts, ask him about his sophomore year.) He also loves singing along to songs that are way too vocally challenging for him. Despite this love, you won't see him performing in any a cappella groups at Yale, because those groups want singers with talent. Michael is also extremely passionate about anything Christmas- or Mariah Carey-related. But above all, he is super, super, SUPER excited to meet the class of 2024 and introduce you all to the Hopper family!
Yvonne Ho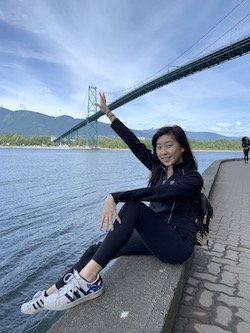 Yvonne Ho is an Economics major from Orange County, California. Her favorite quarantine activity is laying in bed and thinking about productive things she could do to pass the day, and then deciding to play League of Legends the entire day instead. When she is not wasting time playing video games, Yvonne enjoys playing soccer and going outside until she realizes the sun is too bright and she's gotten her 5 minutes of vitamin D for the day before going back inside.  When Yvonne is neither playing video games or going outside for five minutes, Yvonne is hard at work building and analyzing financial models. (That's right, I'm your token big finance bro.) At Yale, Yvonne is involved in Hopper Intramurals, C2 Club Soccer, Yale's Fed Challenge Team, the Taiwanese American Club, and the E-sports club.  
Kathryn Schmechel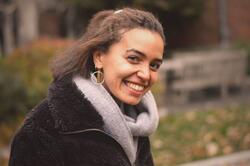 Kathryn Schmechel is a History and Ethnicity, Race, and Migration double major who calls Saint Paul, Minnesota, her first home and Hopper College her second. At Yale, Kathryn has been involved in all things Hopper (from being a part of the Hopper College Council to being a Hopper Aide), done research for the YUAG, and advocated for diversity and inclusion workshops to be a mandatory part of Yale's orientation programming. When she's not in class or doing one of these things, you can find her eating a cup of dough in the buttery, laughing with her friends at the circle table in the Hopper dining hall, or drinking Nutella lattes at her favorite study spot, Koffee? She can't wait to meet all of the new Hopper first-years and welcome them into the very best residential college at Yale!
Carly Wanna
Carly Wanna is a History major from Macon, GA. At Yale, she has been an editor for the Yale Daily News, secretary for the Hopper College Council, and a research assistant for the History / Political Science Department. When the weather's nice, she enjoys trips to the Farmer's Market, lounging on Cross Campus, and exploring New Haven. Because Georgia weather never prepared her for the cold, when winter hits, she stays close to Hopper College — spending a bit too long at brunch, reading in the library, and watching The Bachelor with her suitemates. But there's certainly worse ways to stay warm. Carly is so excited to be a FroCo and can't wait to meet y'all come fall!
Amber Young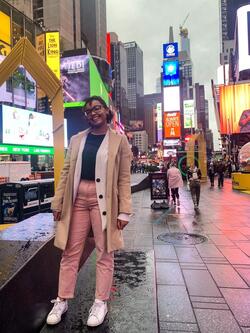 Amber Young is a physics major from Atlanta, Georgia who loves learning about the dynamics of our biological, physical, and astronomical world. As a STARS II Scholar, Amber has conducted original research in biomechanics in the Department of Mechanical Engineering, and she looks forward to performing neuromechanics research in the Department of Neuroscience for her senior thesis. Amber is passionate about education and inclusivity, advocating for diversity training workshops for all Yale affiliates, volunteering for educational programs in the Department of Physics, and interning at the Fair Haven Public School. Outside the academic world, Amber dances with and choreographs for Yale Steppin' Out and Danceworks. Amber is also a proud soror and Vice President of the Pi Alpha Chapter of Delta Sigma Theta Sorority, Inc. In Hopper, Amber has enjoyed co-managing the Trolley Stop (Hopper's buttery) and serving as an aide in the college office. When she's not running—or biking—to and from Science Hill, Amber can be found dancing in Hopper's studio, chilling in the buttery, or enjoying an acai bowl from Juice Box. Amber is super excited to welcome the Hopper first-years to Yale and New Haven!